---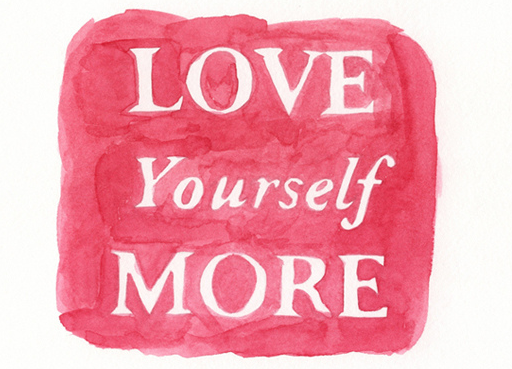 Image source: kopriva
Throughout my life, I have been in a constant battle with my self-esteem.
Having a high self-esteem has always seemed ridiculously impossible to me. Quite literally, from a young age, I had never been a confident person. Obviously, the way we grow up and identify ourselves through school life and society has a big impact on the way we see ourselves, and who we believe we are.. but even once I figured out who I was and stopped seeing myself as the labels I was given in school, my self-worth and respect I have had for myself has been minimal.
I knew that my confidence needed work, and I needed to figure out how exactly to like myself. I attempted this through a number of ways - firstly, altering my looks to an extent I was happy with. Secondly, learning how to appear confident and throw myself out of my comfort zone to increase my levels of confidence. Figuring out what I want from life and how I'm going to get there - those sorts of things.
But, all of this has only worked to a certain degree. For example, I am more comfortable with my appearance than I have been in the past, but it hasn't made me love and appreciate myself. Making yourself look good is pretty useless if you don't like yourself first, because firstly, you are likely to point out your flaws (you're hardly going to be kind to someone you don't like), and secondly, it creates a very uncomfortable feeling when somebody compliments you because you know deep down you still don't believe any nice things about yourself.
My second strategy, of 'fake it til you make it', also works to some extent - working on your posture, how you present yourself to society, and eye contact can push you in the right direction for appearing confident towards others and almost fooling yourself into believing you are a confident person. However, this method also still relies on 'appearance' - underneath the layers of confident exterior, you're still the same person you were. It's not dealing with the deeper issue inside.
Planning your life ahead and setting goals for where you want to be in the future also helps in giving you a sense of purpose - but at the end of the day, if you don't have the mere confidence to take these steps and have very low-self worth to even believe that you are capable of the things you want to do, you're not guaranteed to get very far. Your insecurities and uncertainty about yourself will stop you.
And lastly, by throwing myself into the deep-end in various situations, I have noticed significant improvements in my views of myself and self-confidence. This works because by challenging yourself to do things that scare you, it gives you a great feeling of satisfaction once you have overcome your past 'limitation'. You start to believe in yourself, and believe that you really can do things you once thought you were incapable of.
But, this feeling is temporary. Unless you are constantly using this method, it dries out pretty fast, because once again, the underlying issue of your low self-esteem is being ignored. And tonight I think I've figured out why, for so long, I've suffered with this problem of just liking myself, and being comfortable with who I am.
Tonight, I read this article called Love yourself: The 90/10 Principle. The 90/10 principle is a theory by an author known as Steve Covey who suggests that 10% of your life you cannot control. (E.g, daily annoyances like traffic, other people's moods or reactions towards us e.g rejection, or simple unfortunate accidents like burnt toast.)
"90% of your life you CAN control – by how you react to the 10% you can't. You can influence your attitudes, behaviors, thoughts, and words."
The article then goes on to explain that, by widening the gap between events and our reactions to said events, we can choose to respond in more constructive, helpful ways, that reflect the way we feel about ourselves in a loving nature. This nurturing attitude we will then adapt to ourselves will further more lead to positive consequences, and an overall happier, confident you.
It was at this point that I realised a lot about myself and my general behaviours towards myself that I've made a bad habit out of throughout my life. It opened my eyes to see that, when reacting to events caused by myself or others, rather than thinking of ways I could react in a constructive way that will benefit me and reflect self-love, I have, more often than not, reacted in self-defeating, destructive ways. In fact, whenever I mess up at something, or fall short of my perfect unrealistic expectations of who I want to be, I automatically start beating myself up and self-criticizing. Not surprisingly, negative consequences have risen from these choices, and it all makes a whole lot of sense to me now.
It's all very well trying to love yourself - but what do we actually do to achieve this? It's evident that improving your looks alone doesn't work, neither does learning how to fake confidence or making yourself do things that frighten you. Simply saying 'I love myself' over and over and over doesn't work either.
And that's because loving oneself requires action. When something bad happens to us, we have the decision, us alone, to choose how we are going to react. We can choose to react in a way that proves we love and respect ourselves, instead of anger, self-pity, and self-loathing.
This way, we're taking back control of the 90% of our lives that we do have control over. And we're simply letting go of the rest. By realising that we can't control everything in our lives, but can control our reactions to most things in a positive way that will help us and our self-esteem in the long term, it can give a great sense of relief. We're taking things back in our own hands.
I've had many setbacks, failures, mistakes, and regrets, but by making the choice to react to these things in a way that shows I love and care about myself from now on, my overall self-worth and self-esteem will no doubt make it's way back up over time.
And remember - it's not situations or events that are necessarily bad. It is, and always has been, our own beliefs about that event or challenge you're currently facing. Our beliefs are at the heart of our emotional states - and altering our beliefs in a way to benefit ourselves and demonstrate our self-love can be as easy as making a choice of our reactions.
It's all down to you! ☺
My blog: Emilicia Style
---
Emily
A fashion and beauty blogger - follow for my daily ramblings, beauty tips and personal style!

---